Don't get stuck with a
bad real estate agent
SoldNest analyzes key real estate transaction data to find the top-performing agents who don't use shady tactics. Sell your house with someone who will prioritize your best interests.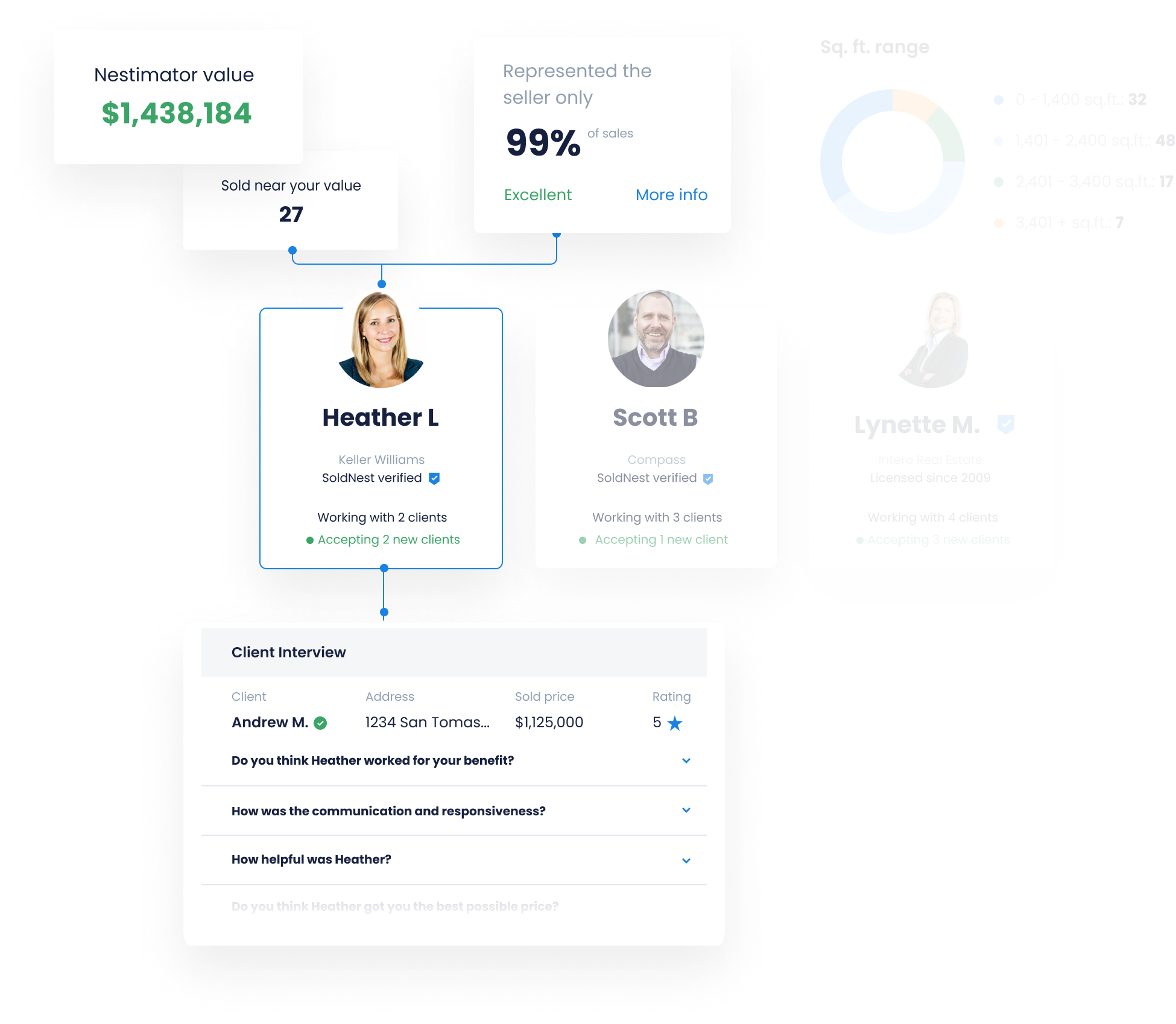 Eliminate the guesswork.
Sell with the most reputable agent.
Not knowing if a real estate agent will prioritize your best interests is nerve-wracking. We know that. SoldNest helps you eliminate those nerves with data-backed proof and a no-commitment guarantee.
We analyze home sales to find the top real estate agents who have a proven track record of not risking their integrity. These are agents who won't intentionally misguide you about price or push you to accept an offer that benefits the buyer. The best part? SoldNest agents back up their reputation with a guarantee – they'll never lock you into a contract! Learn more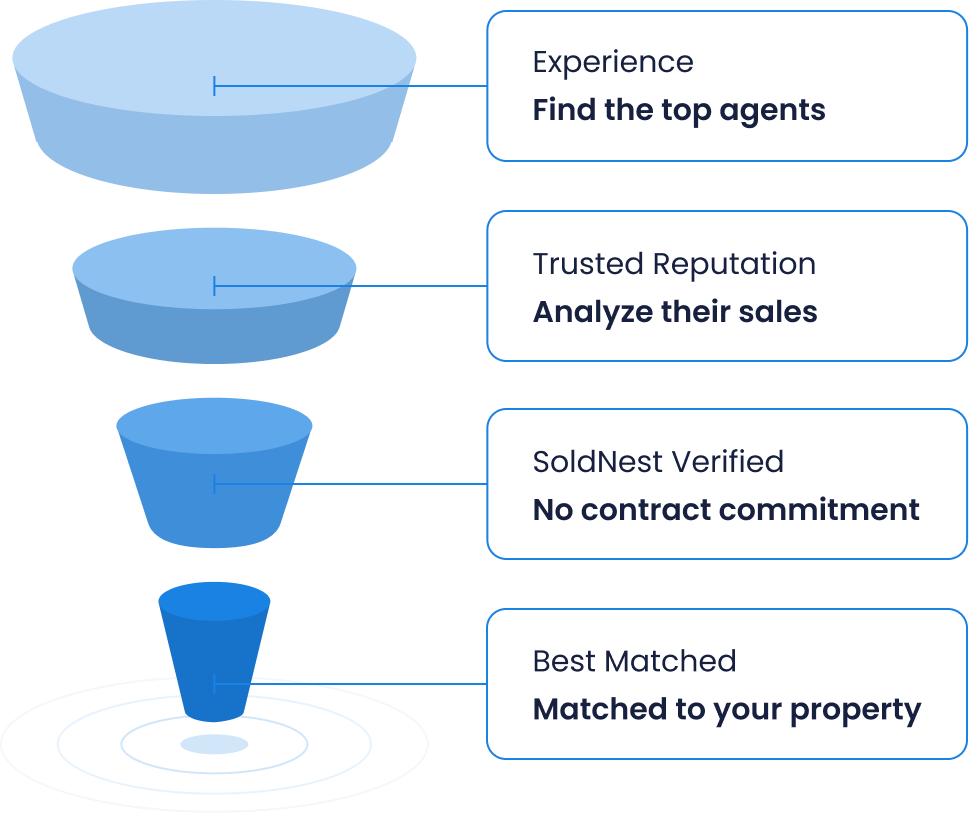 Avoid dishonest behavior.

Sell for the maximum price.

A tactic that many top listing agents have mastered is convincing a seller to accept an offer that benefits the buyer. This ploy is commonly used when the seller's agent also represents the buyer — or when the seller's agent refers their buyer to another disreputable agent. This results in a bigger commission check for the seller's agent, but a below-market price for the seller.

Our algorithm filters out the listing agents who have a suspicious number of these sales so that you never have to second guess if your agent is really working for your benefit.

Get an honest price opinion.

Attract serious buyers.

Unethical agents have a track record of misguiding sellers about price — either suggesting an inflated number to get you excited so they can secure your business, or making a convincing pitch to underprice so they can show off your above asking sold price to your neighbors. These techniques can be the exact reasons why your house sits on the market — or why you leave money on the table.

We analyze and compare the performance history of top agents in your area to find the ones who don't take part in these shenanigans. You'll get a truthful opinion from a local expert who will put you in the best position to sell for the most money, fast.

No contract commitment.

Become a top priority.

The exclusive contract you sign with an agent locks you in for months, whether you're pleased with their services or not. This gives real estate agents the security of a commission check and invites the busy ones to put your sale on the back burner.

With SoldNest, you get a local expert who moves you to the front of the line — without locking you into a contract. Someone who will make you a top priority. Because that's what you really care about.
You deserve the highest price for your home.
Discover your best agent to get it.
3 simple steps to getting
the most reputable agent
Answer a few questions
Tell us about your property in less than two minutes. Our proprietary algorithm starts filtering out the bad agents and finding the ones who are best matched to sell your exact house.
Discover your best agents
Uncover your top-performing agents who have the most trusted reputation. Learn about their proven track record and why they're your perfect match.
Request a non-sales call
An expert on our team makes it easy by scheduling an introductory call with any of your agents, without the sales pitch, whenever you're ready.
Unbiased matches that are tailored to your exact home
Our AI-powered recommendation engine does the heavy lifting.
All you need to do is decide which agent you'd like to help you.
Near your value
The Nestimator™ instantly estimates your potential selling price and finds the best seller agents who have experience selling near your value.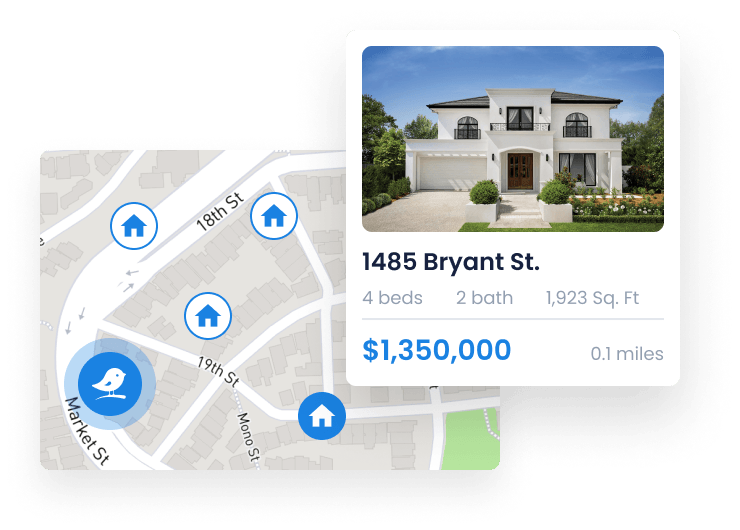 Sold in your area
Our database stores the sales data for every listing agent who has sold a property near you so that we can recommend top agents who know your area.
Homes sold like yours
We also analyze every home that has sold in your area to match you with top agents who have a proven track record of successfully selling homes just like yours.
We've helped home sellers just like you
"We were overwhelmed when searching for a realtor to sell our home, but SoldNest made it easy. The service our agent provided was excellent from start to finish and we sold for $80,000 more than our asking price."

"It was our first time selling so we had a lot of questions. The real estate agent we found through SoldNest made the process less stressful and was there every step of the way. We defintely recommend using SoldNest to find a real estate agent!"

"The outstanding 5 star service went way beyond what we've experienced with other realtors we've used to sell a property. We are impressed with the SoldNest business model and highly recommend using them to find a realtor."
Selling your house with SoldNest FAQs
Can agents pay to be recommended by SoldNest?
No, agents cannot pay us anything (up front or monthly). The only way agents can be recommended is if they are able to pass our stringent qualifications.
Does it cost me anything to use SoldNest?
No, our service doesn't cost you anything and is offered without any commitment.
How does SoldNest make money?
After your sale is completed with one of the agents we recommended, the company the agent works for pays SoldNest a broker-to-broker referral fee. Agents and their brokerages have no problem with this because we successfully match them with new clients, saving them from having to pay out-of-pocket advertising expenses to market themselves. All of the agents on the SoldNest platform prioritize superior service so that we continue to match them with new clients.
This model is mutually beneficial for everyone. The service is free for you, but SoldNest is motivated to find you the most reputable real estate agent who is best matched to sell your exact property. We only make money if you meet your objectives and have a successful sale.
Why should I trust SoldNest's recommendations?
There are three reasons why you should trust our agent recommendations:
They have a proven track record with the most trusted reputation.
There's no contract commitment.
Agents cannot pay us to be recommended, which means your matches are unbiased.
In order for an agent to be recommended by SoldNest, they must have a track record that doesn't just show they consistently outperform their peers, but that they have a reputation for being the most trusted. The data points we analyze for this include:
Sale-to-list price ratio
Average days on market
Number of properties sold
How many times they sold below the asking price
Number of times they reduce the asking price
How many times they also represented the buyer
And more
Our matching algorithm bases its recommendations on how successful SoldNest agents have historically been when helping clients with similar needs to yours. The only way they can stay on our platform and increase their chances of being recommended is by consistently achieving excellent results for the home sellers we connect them with.