Don't get stuck with a
bad real estate agent
SoldNest combines AI technology with real-time data and client interviews to instantly find your best and most trusted listing agent. Sell with a local expert who will make you a top priority.
Get the most trusted real estate agent
Trusting a real estate agent to sell your home is nerve-wracking. We know that. Not knowing if they'll prioritize your sale. Nervous that they'll let your house sit on the market. And that little voice asking you if all they really care about is a commission check. So we do something different.
We've designed the most stringent vetting process that combines agent sales data with real-world interviews to find the top seller agents who have a proven track record of being trusted. The ones who get top dollar, sell fast, and don't use shady tactics. The best part? We interview their past clients to ensure that the service they provide is nothing less than 5 stars. Learn more
3 simple steps to getting
the most trusted agent
Find your 3 best agents
Answer a few questions and we'll show you the best agents for you and your exact home.
Request home selling plans
Discover how your best agents can make your sale easier, faster, and more profitable.
Get your most trusted agent
Pick your agent and enjoy an easier home selling experience with someone who will make you a top priority.
Have confidence you've hired the right listing agent

Choosing the wrong real estate agent can cause a home selling disaster. But the perfect one can make your sale easier, faster, and more profitable.

SoldNest's matching algorithm doesn't just find the best real estate agents for you – it shows you why they're the perfect match.

Become a top priority

Online reviews don't always tell the whole story and can easily be manipulated by less than trustworthy real estate agents.

That's why SoldNest relies on more than real-time data and AI. We also add a human touch to our algorithm by performing real-world interviews with the agent's past clients so that you can enjoy an easier sale with someone who will put you first.

Sell fast and make more money

Selling a house quickly and for top dollar isn't luck. It takes skill and integrity. Our software analyzes crucial data points such as the listing agent's sales to listing price ratio, days to sell, how many times they also represented the buyer, price reductions, and more.

We compare this data against pricing trends and other selling agents so that we only give you recommendations for the top real estate agents who are trustworthy and have a proven track record of successfully selling homes at your price point and in your neighborhood.
SoldNest is 100% FREE
Unbiased matches that are tailored to your exact home
Our AI-powered recommendation engine does the heavy lifting.
All you need to do is decide which agent you'd like to help you.
Near your value
The Nestimator™ instantly estimates your potential selling price and finds the best seller agents who have experience selling near your value.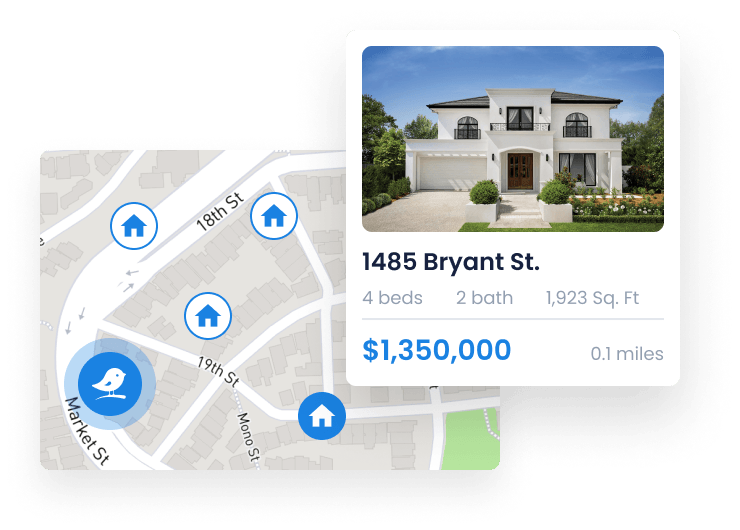 Sold in your area
Our database stores the sales data for every listing agent who has sold a property near you so that we can recommend top selling agents who know your area.
Homes sold like yours
We also analyze every home that has sold in your area to match you with seller agents who have a proven track record of successfully selling homes just like yours.
We've helped home sellers just like you
"We were overwhelmed when searching for a realtor to sell our home, but SoldNest made it easy. The service our agent provided was excellent from start to finish and we sold for $80,000 more than our asking price."

"It was our first time selling so we had a lot of questions. The real estate agent we found through SoldNest made the process less stressful and was there every step of the way. We defintely recommend using SoldNest to find a real estate agent!"

"The outstanding 5 star service went way beyond what we've experienced with other realtors we've used to sell a property. We are impressed with the SoldNest business model and highly recommend using them to find a realtor."
Selling your house with SoldNest FAQs
Which areas do you service?
We're currently serving all cities and neighborhoods in Silicon Valley. These include Almaden Valley, Campbell, Cupertino, Gilroy, Los Altos, Los Gatos, Milpitas, Morgan Hill, Mountain View, Palo Alto, San Jose, Santa Clara, Saratoga, Sunnyvale, and Willow Glen.
We're quickly expanding, and we will continue to update our website with details.
Does it cost me anything to use SoldNest?
No, our service is 100% free, without any commitment.
Can agents pay to be listed on SoldNest?
No, agents cannot pay anything to join (up front or monthly). SoldNest is an invite-only platform, and the only way agents can be listed is if they are able to pass our stringent vetting process.
How does SoldNest make money?
After your sale is completed with one of the agents we recommended, the agent pays SoldNest a broker-to-broker referral fee. Agents have no problem with this because it saves them from having to market themselves and find clients on their own. They also typically pay these types of fees to relocation companies or brokerages anyway.
This model is mutually beneficial for everyone. The service is free for you, but SoldNest is motivated to find the best real estate agent for you and your exact home. We only make money if you meet your objectives and have a successful sale.
Why should I trust SoldNest's recommendations?
SoldNest is an invite-only platform that utilizes machine learning technology, sales data, and client interviews to identify the best and most trusted real estate agents. Less than 1% qualify and they can't pay or do anything else to join. In order for an agent to be invited to SoldNest, they must have a proven track record that doesn't just show they consistently outperform their peers, but that they are also the most trusted. The data points we analyze for this include:
Sale-to-list price ratio
Average days on market
Number of properties sold
How many times they sold below the asking price
Number of times they reduce the asking price
How many times they also represented the buyer
And more
The agents who rank among the best in their area are then required to allow us to interview at least 3 out of 10 randomly selected past clients before becoming a SoldNest partner agent.
Our matching algorithm bases its recommendations on how successful SoldNest agents have historically been when helping clients with similar needs to yours. The only way they can stay on our platform and increase their chances of being recommended is by consistently achieving excellent results for their clients and maintaining top-rated client interviews.